Since moving to Cheltenham I'd like to think that I have adopted the Robins as my 'lower league' club, backing them on failed accumulators, attempting ambitious campaigns with them on Football Manager & FIFA, staying up until stupid O'Clock until the end of the Football League Show and praying they'd get Leeds at home when a cup draw is being made.
I've only made it to two Cheltenham Town home matches, a bland 0-0 draw against Newport County during their first season back in the Football League, and a lively televised JPT encounter against eventual finalists Bristol City, loosing 3-1. This season started relatively well for the Robins, unbeaten for the first six league encounters, and destroying League 1 Swindon Town 5-0 in the FA Cup. However that form failed to last and they parted ways with manager of 5 years Mark Yates just before being knocked out of the cup by non-league Dover Athletic.
Currently the club is managed by Paul Buckle, laying 21st in League 2 and sporting an patched up squad of loaned players from across the leagues, only attracting an average of 2,717 supporters to Whaddon Road. In a light hearted attempt to boost these figures, Murry Toms created a crowd funding campaign on the internet for a billboard to be placed in the town, and within 11 hours the £650 was raised. Quickly erected on the side of the United Services Club on North Place today, the message implies that Cheltenham are better than Manchester United through 'We beat them' theory after fellow League 2 outfit Cambridge United earned a replay at Old Trafford against the three times champions of Europe following a 0-0 result in the FA Cup fourth round.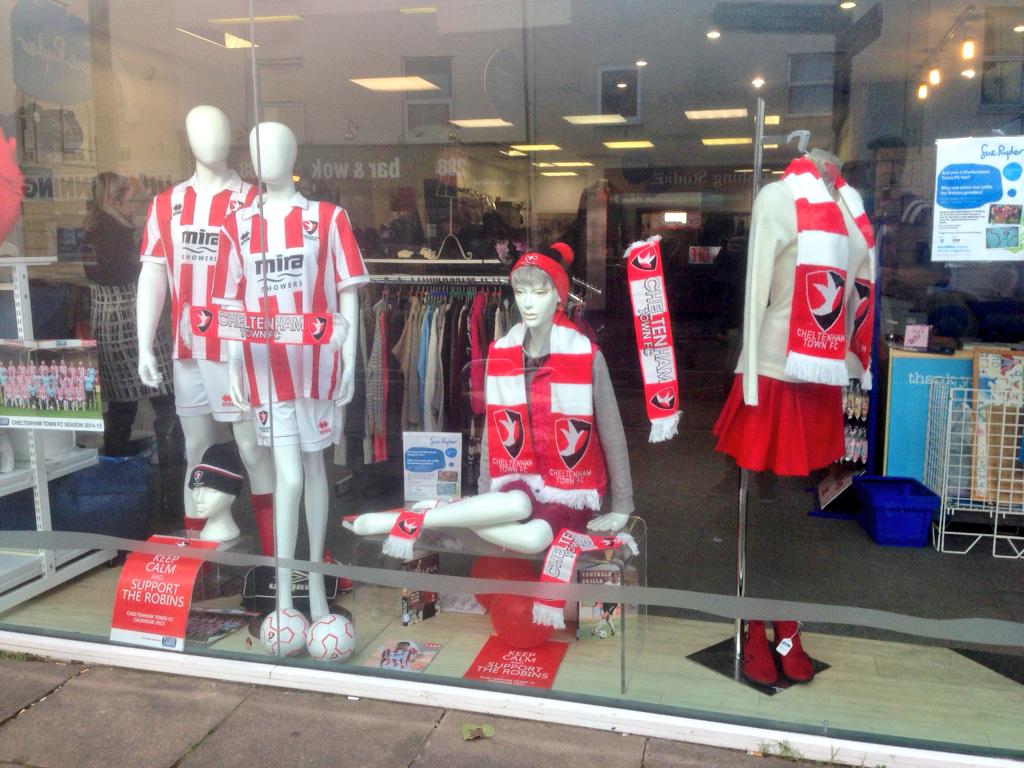 The social media hype around this campaign has already resulted in noticeable support for the around the town, namely at the local Sue Ryder charity Shop, where shirts, scarf's and other 'club shop tat' is on display (not for sale). Currently there are plans to place a second edition of the billboard, as the crowd funding page has reached over £1000!
We will know on Saturday at 3pm if this venture has really been a success, when ex-Leeds striker Jimmy Floyd Hasselbaink brings his high flying Burton side to Whaddon Road for a league match in front of a newly inspired audience. It is also a test for Buckle's flurry of loan players, including the Welsh u21 forward Wes Burns, to show their worth and avoid the drop to the Conference, and into next seasons League Cup draw at home against the mighty whites.